Home » 2012 » APRIL » 21 » Call of Duty: Black Ops 2 dobija službenu najavu 2. maja?
---
01:21:11
Call of Duty: Black Ops 2 dobija službenu najavu 2. maja?
Nagađanja o novom Call of Duty naslovu ne prestaju, a današnja vijest mogla bi biti neslužbena najava da će nova igra popularnog FPS serijala biti upravo Black Ops 2. Gaming blog Kotaku dobio je iz anonimnog izvora (određena trgovina igrama) sliku promotivnog postera koju zaista nije previše teško povezati s Call of Duty hitom iz 2010. godine.
Iako sama slika ni u jednom dijelu ne ističe naslov igre, ton mutne pozadinske grafike te tekst "Return for Debrefing" insinuiraju upravo na nastavak Black Opsa. Singleplayer originalnog Black Opsa vodio nas je kroz priču dok je glavni lik bio na ispitivanju, odnosno "debriefingu".
Datum na slici, 2. maj, ni u kojem slučaju nije datum izlaska igre, već vjerojatno dan kada će Activision službeno najaviti novi Call of Duty. Ovo nije prvi put da razne procurene informacije upućuju na Black Ops 2 kao novi CoD naslov, a nedavna glasina kaže kako je datum izlaska nove igre već postavljen na 6. studeni ove godine.
U svakom slučaju sve je ovo još nepotvrđeno, a mi se nadamo kako će 2. maja Activision zaista pojasniti cijelu situaciju. Spornu sliku pogledajte ispod.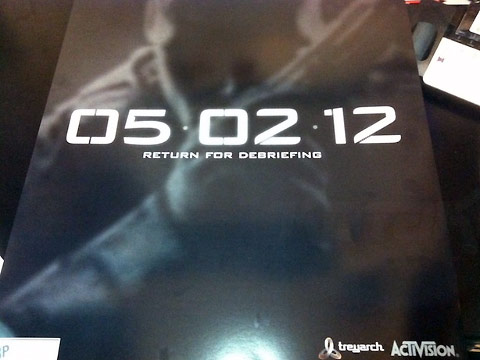 Što vi kažete? Black Ops 2 ili Modern Warfare 4?
Category:
NOVOSTI IZ SVIJETA GEJMINGA
|
Views:
545
|
|