Home » 2012 » APRIL » 29 » Potvrđeno: Novi Call of Duty je Black Ops 2, poznat datum izlaska
---
04:52:25
Potvrđeno: Novi Call of Duty je Black Ops 2, poznat datum izlaska
Nekoliko glasina i procurenih informacija već nam je poprilično jasno dalo do znanja da je novi Call of Duty naslov upravo Black Ops 2, no sada je to i potvrđeno. Ne možemo reći da je potvrda u potpunosti službena jer dolazi u obliku preuranjeno uslikane kartice za prednarudžbu igre iz jedne američke trgovine igrama, ali možemo reći da je vrag odnio šalu i da nam je dosta više tračeva. Uostalom, ovo izgleda krajnje vjerodostojno.
Kako piše
IGN
, njihov čitatelj imena Richard bio je tako dobar da poslika preuranjeno izloženu karticu za prednarudžbu igre i pošalje fotku u njihovu redakciju. Kartica prikazuje samo logotip igre na kojem jasno stoji naslov Call of Duty: Black Ops 2, a također je istaknut i datum izlaska - 13.11.2012.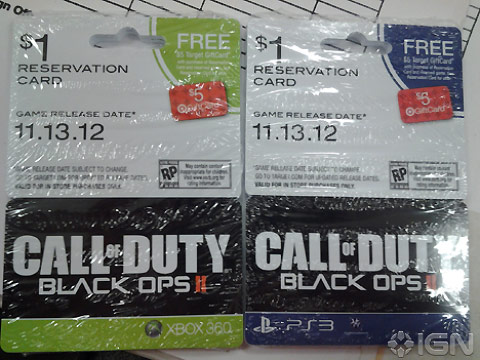 Sudeći prema slici, Blops 2 tada će izaći u verzijama za Xbox 360 i PS3, a datum se podudara s prijašnjom praksom izbacivanja Call of Duty igara pred kraj godine. Primjerice Modern Warfare 3 izašao je 8.11.2011.Kao što je prije rečeno, službena najava nove Call of Duty igre stiže 1. svibnja tijekom NBA playoffsa. Čim se to desi, pisati ćemo o tome, a nadamo se samo da ćemo ovaj put dobiti i kakve konkretne materijale umjesto... oh, ne znam...
19-sekundnog teasera
?
Category:
NOVOSTI IZ SVIJETA GEJMINGA
|
Views:
396
|
|